shakti mhi
College Calendar
How To Register
Contact Us
FAQs


The Enigma of Self-Realization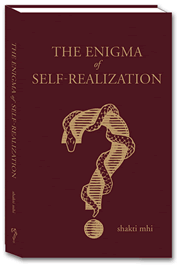 by shakti mhi
Available now:
Remarkable, inspiring and beautifully written.
'The Enigma of Self-Realization,'
by shakti mhi.

The debate about enlightenment's existence or nonexistence is on.
It always was and always will be. The reason for this is that once enlightenment is discussed, it naturally gets squeezed into concepts and definitions.
Definitions and concepts are the blossoming of perceptions. Perceptions are the seeds of the mind. Taking into consideration that each of our minds changes momentarily, I am leaving to you the calculation of how many spiritual minds are out there, to form countless perceptions that portray infinite definitions about enlightenment. No wonder so many spiritual seekers are in confusion, doubt and despair about the issue.
I invite you to immerse yourself in the teaching, revealed in these pages, and explore your own authentic enlightenment experience.
Love,
shakti
---
"It reads like poetry..." - Arie Vander-Reyden
Also available at the following retail locations:
Vancouver, BC, Canada
Exhale Studio - 604-689-2446 (1083 Cambie Street, Yaletown)
Spartacus Books - 604-688-6138 (319 West Hastings Street)
Blackberry Books - 604-685-4113 (#3 - 1666 Johnston Street)
Capers (Cambie Location) - 604-909-3877 (3277 Cambie Street)
Capers (Kitsilano Location) - 604-739-6676 (2285 West 4th Ave)
Ayurveda Clinic - 604-228-1537 (3636 West 4th Ave)
Banyen Books - 604-732-7912 (3608 West 4th Ave)
Duthie Books - 604-732-5344 (2239 West 4th Ave)
North Vancouver, BC, Canada
32 Books Company - 604-680-9032 (3185 Edgemont Blvd)
Coquitlam, BC, Canada
Reflections Books - 604-939-6000 (1111D Austin Avenue)
White Rock, BC, Canada
Whitby's Books - 604-536-3711 ( 14833 Marine Drive)
Victoria, BC, Canada
Instinct Art & Gifts - 250-388-5033 (622 View Street)
Kamloops, BC, Canada
Mystic Dreams - 250-554-8770 (419 Tranquille Road)
Bookland - 250-554-2025 (750 Fortune Drive)
The Golden Buddha - 250-374-1578 (247 Victoria Drive)
Kelowna, BC, Canada
Mosaic Books - 250-763-4418 (411 Bernard Avenue)
Brooklyn, New York, USA
Namaste Yoga Studio - 917-582-4472 (336 Grand Street)
Price: $24.00
(plus shipping) and GST for Canadian residents.
Or contact 604-682-2121 or 604-676-8812 to order and pay by Visa or MasterCard or to inquire regarding bulk rates.
---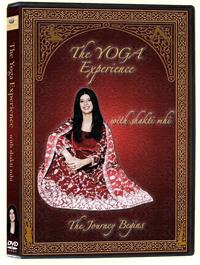 Also available, shakti's DVD:
'The Yoga Experience with shakti mhi' on DVD
---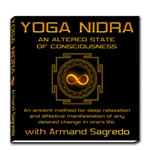 Also available, Armand's new CD
"Yoga Nidra: An Altered State of Consciousness"
Gift Packages Available
Include combinations of "The Yoga Experience" DVD and "The Enigma of Self-Realization" Book, by shakti mhi, and Armand Sagredo's Yoga Nidra CD.
*Packages can be purchased most conveniently from our online store, or can be ordered at Prana Yoga Teacher College at 604.682.2121 or 604 676 8812; to contact the office by email, please send to: info@pranayogacollege.com.