Teacher & Staff Profiles
College Calendar
How To Register
Contact Us
FAQs


Yoga Teacher Trainers
shakti mhi provides powerful leadership and empowering tools for teaching as the core program leader. Individual courses offered during different seasonal training programs will have additional program leaders and will vary depending on the subject, program location and availability. See the specific program information for details about additional leaders.
See shakti's full bio, photos, videos, publications, blog and writings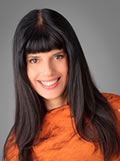 shakti mhi, E-RYT
After nearly 30 years of personal practice and teaching thousands of students around the globe, shakti mhi has made Yoga her passion and her life's purpose. Since the age of 14 when she first discovered Yoga she has travelled the world in search of Yoga and Zen teachers who would expand her knowledge of all aspects of Yoga. Since 1982, shakti has trained hundreds of Yoga teachers, who are sought after by yoga studios and practitioners around the world. Many of them have gone on to open their own schools internationally.
See shakti's full bio, photos, videos, books, blog and writings
Or browse our yoga teacher trainer profiles at left.