About the College
College Calendar
How To Register
Contact Us
FAQs


College Events
An evening of free music with Joseph Pepe Danza and friends.
Freedom for Yoga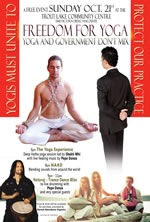 Sunday, October 21 - 6pm-11pm
Trout Lake (inside the community centre building)
3360 Victoria Drive, Vancouver (map & directions)
This event is in support of BC yogis.
BC yogis unite! We need you to be there and lend your voice to stop government regulation on yoga.
Show the world that you're attending, on our Facebook Event Page
Hatha Yoga is a physical and spiritual practice that has revolutionized the health and consciousness of Canadians over the last 20 years. Government-sponsored agencies have been increasingly opportunistic in extracting money from Yoga studios through administration fees, fines, and even sending them to bankruptcy if they cannot pay. This is becoming a game where the small studio's are at risk of losing their ability to serve because of bureaucratic greed.
This is an event that calls upon Yogi's to unite and show their support for the practice that has nurtured them, and to stand up for the studio's that are under pressure to pay high fee's for a practice that is already regulated by respected international bodies such as the Yoga Alliance. If we don't show that we care, the government won't either. These are moments that can make a difference in the lives of millions of future practitioners if we come together and make a stand.
We have created a beautiful evening of yoga, music and dance to shift the paradigm of yoga and activism. Come out and bring your friends for a beautiful evening that will also be political statement to the government that the freedom to dance, stretch, and teach others how to be balanced is part of the revolution.
Please sign our petition and share it as widely as you can.
http://www.change.org/ petitions/ freedom-for-yoga-yoga-and-g overnment-don-t-mix
---
Hatha Yoga Classes open to the public
Regular Classes:
---
Upcoming programs and workshops in Canada
Upcoming programs
Upcoming programs and workshops in Israel
Israel Level 1 (200hr) Intensive (Apr 14 - May 31, 2014)
Israel Level 1 (200hr) Intensive (Jun 8 - Jul 8, 2014)
Israel Level 1 (200hr) Intensive (Jul 20 - Aug 20, 2014)